Recommended
Simon Ward
With the launch of the new VIA website (finally), one aspect of the design that received an unusual amount of attention was the mobile menu and it's interface....
Follow Niamh our Digital Marketing Apprentice as she takes you through a busy day in the VIA Creative design agency: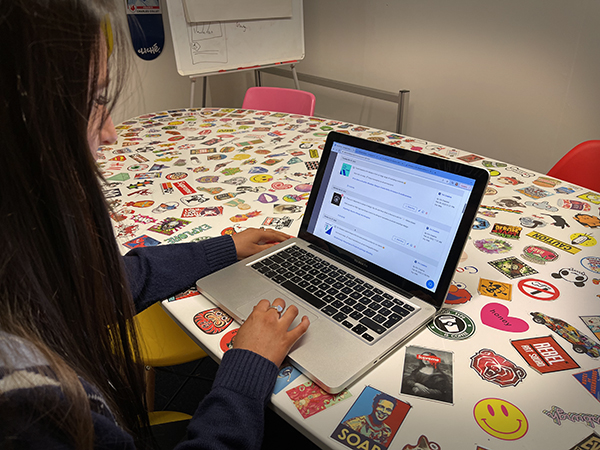 9am - I start the day by going through all the VIA social media pages and emails, making any notes of important events and forwarding any important emails to Dave or the relevant team member. I will then have a search through various social media platforms and see what type of content is eye catching and how we can create something different but staying relevant to our brand and our company values.
10am - Once I have checked all social media I then update engagement rates on our posts into a spreadsheet, this helps us keep track of what posts do better on which platforms. and at which times, I do this once the post has been live for a week to get accurate results. I analyse every social media platform and copy the text and the type of post it is into the spreadsheet, this also helps me keep track of how many posts we are creating and posting within a week.
10:30am - I then began to schedule posts for www.middlesbrough-printing.com, the inhouse printing company based in Studio 109. I firstly take my own photos of the materials I want to post, such as menus, booklets, invitations, postcards etc. Once I have taken all of the pictures I edit them and add filters to create a more dynamic look to the photo. I then think of a caption taking inspiration from the Printing.com playbook where they give lots of details about the products they can print and how they are created. Using our social media software SocialPilot I can then schedule posts to go out on certain social media platforms at certain dates and times which is very helpful in my role and allows me to manage multiple posts for not just VIA but our clients too.11:30am - While scheduling for the print company I also schedule posts for VIA Creative's social media. Currently I'm working on posts for our client testimonials. I create graphics for the reviews using Canva, this is my favourite creation software as it is easy to use and you can access a lot of features to make fun and engaging content. I also created a post for a new website launch, you should check that out on our social media!
12pm- LUNCH I like to go for a walk at lunch around Middlesbrough centre to leave the office and stretch my legs. Sitting at the desk is hard for me to do as I get really fidgety throughout the day so taking the break and the walk is good for me. I then go back to the co-working space in Studio109 and eat my lunch and sometimes use the brilliant cafe https://gutsygirl.co/ and chill before heading back into the office.
1:15pm - After lunch I start my afternoon off by opening our MailChimp campaign for last month and record all of the subscribers who have opened or clicked to develop a range of prospects. I then compile and send a follow up email to see if any of our services could be of use to those who have engaged with the e-shot. This can be a long process because we have lots of different email lists but it's fun as I enjoy recording data and writing reports and comparisons. It's even more rewarding when a prospect comes back and asks for further information about our services. This process recently resulted in a new website client which was brilliant as I seeded the customer.
2:15pm - I've also recently created some story content for the print company. We have seen an increase in popularity of stories, polls and interactive posts on Instagram compared to in the past so I have been creating a lot more posts that our followers can interact with and share their thoughts and feelings on our posts and not just posting the usual Instagram grid posts. I began by doing some research on what other printing companies post on their stories to try and get a feel for the trends and the competition. I enjoy creating story posts because they are fun and can be interesting and different compared to a standard photo and caption on Instagram.
3:15pm - Currently I've started to edit video files for our 'meet the team' campaign, which is part of our agency's 19th birthday. I can also use Canva to edit the videos and trim them down as well as adding transitions and animations. This was a time consuming process, as I had to trim the file and make sure that it was still somewhat seamless throughout the video and look professional. I love the video creation and editing process as well as these posts being fun to film. We are also going to create a separate blooper video reel using all the outtakes, which I'm looking forward to putting together.
4:30pm - I ended the day by creating more posts for VIA Creative I made and scheduled some service posts which inform new and previous followers of what we offer. I also spoke to Dave about scheduling our campaign posts before I go and do my Baltic Apprenticeship Training course in Google Analytics which I'm very excited to do and learn about so I need to pre plan everything before I finish work.
5:00pm - After an interesting and informative day of working it's finally HOME TIMEEEE and then we are back to learn more again tomorrow.
I hope you enjoyed my little day in the life of a digital marketing apprentice and my first blog post since I've been with VIA Creative. If you see any of our social media or e-marketing posts please drop us a line and stay in touch to find out how the brilliant branding, design, web, digital and print services we offer can help improve your own company's marketing.
Post a Response